Investor Relations
Investor Relations
Deluxe, a Trusted Payments and Business Technology™ company, helping businesses pay, get paid, optimize and grow. For more than 100 years, Deluxe has championed businesses so communities thrive at all stages of their lifecycle, from start-up to maturity. READ MORE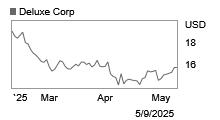 Data Provided by Refinitiv. Minimum 15 minutes delayed.
Transforming the Future of Payments
Deluxe is accelerating its business technology transformation and firmly establishing itself in the payments industry. This acquisition enables Deluxe to participate in merchant services with First American's leading end-to-end payments platform, providing our combined customers with access to more robust technology services and products.